This promo recipe from Keebler Ready-Crust was clipped from a label and found in a large collection, date unknown. I've typed it below along with a scanned copy.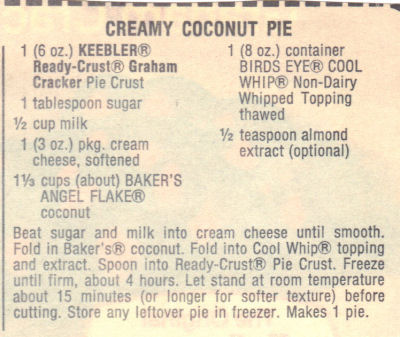 CREAMY COCONUT PIE
1 (6 oz.) KEEBLER Ready-Crust Graham Cracker Pie Crust
1 tablespoon sugar
1/2 cup milk
1 (3 oz.) pkg. cream cheese, softened
1 1/3 cups (about) BAKER'S ANGEL FLAKE coconut
1 (8 oz.) container BIRDS EYE COOL WHIP Non-Dairy Whipped Topping (thawed)
1/2 teaspoon almond extract (optional)
Beat sugar and milk into cream cheese until smooth. Fold in Baker's coconut. Fold into Cool Whip topping and extract. Spoon into Ready-Crust Pie Crust. Freeze until firm, about 4 hours. Let stand at room temperature about 15 minutes (or longer for softer texture) before cutting. Store any leftover pie in freezer. Makes 1 pie.
More Recipes For You To Enjoy: