This recipe is handwritten on a large white index card and comes from a large batch of recipes collected by one cook. Date is unknown. The recipe is typed below as-is and the scanned copy is clickable if you'd like to view a larger copy of the card.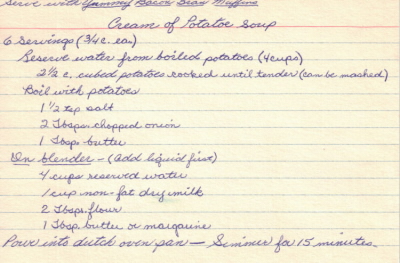 Serve with yummy bacon bran muffins
Cream of Potatoe Soup
6 Servings (3/4 c. ea.)
Reserve water from boiled potatoes (4 cups)
2 1/2 c. cubed potatoes cooked until tender (can be mashed)
Boil with potatoes
1 1/2 tsp salt
2 Tbsps. chopped onion
1 Tbsp. butter
In blender–(add liquid first)
4 cups reserved water
1 cup non-fat dry milk
2 Tbsps. flour
1 Tbsp. butter or margarine
Pour into dutch oven pan–Simmer for 15 minutes.
More Recipes For You To Enjoy: