This recipe was cut from packaging of some kind, probably a bag of flour. Date is unknown. The recipe is typed out below and a scan is included at the bottom.
CRANBERRY-ORANGE BARS
1 package (10 ounces) frozen cranberry-orange relish
1 tablespoon cornstarch
1 teaspoon ground ginger
1/2 cup chopped nuts
1 1/2 cups powdered sugar
1 cup margarine or butter, softened
1 egg
1 teaspoon vanilla
1/2 teaspoon almond extract
2 1/2 cups Gold Medal all-purpose flour*
Glaze (below)
Mix relish, cornstarch and ginger in 1-quart saucepan. Heat to boiling over medium heat, stirring constantly. Boil and stir 1 minute; remove from heat. Stir in nuts; cool.
Heat oven to 350°. Mix powdered sugar, margarine, egg, vanilla and almond extract. Stir in flour. Reserve 1 cup dough. Press remaining dough in ungreased rectangular pan, 13x9x2 inches. Spread relish mixture evenly over dough. Drop reserved dough by scant teaspoonfuls onto relish mixture. Bake until wooden pick inserted in center comes out clean, about 35 minutes; cool. Drizzle with Glaze; cut into bars, about 2 x 1 1/2 inches. 36 cookies.
Glaze: Mix 1 cup powdered sugar, 1/2 teaspoon vanilla and about 2 tablespoons milk, 1 teaspoon at a time, until smooth and of desired consistency.
*Self-rising or unbleached flour can be used in this recipe.
High Altitude Directions (3500 to 6500 feet): For all-purpose, self-rising or unbleached flour, no adjustments are necessary.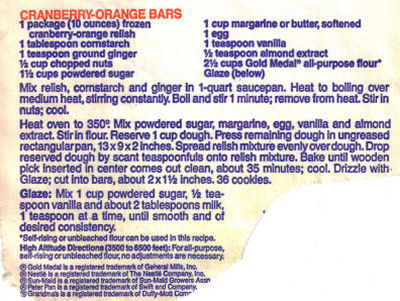 More Recipes For You To Enjoy: