This recipe article was published in the Akron Beacon Journal in 1976 and gives three different recipes for make-ahead mixes (all purpose baking mix, pudding mix and cocoa mix). The article is typed in full below along with a scanned copy (click to view larger).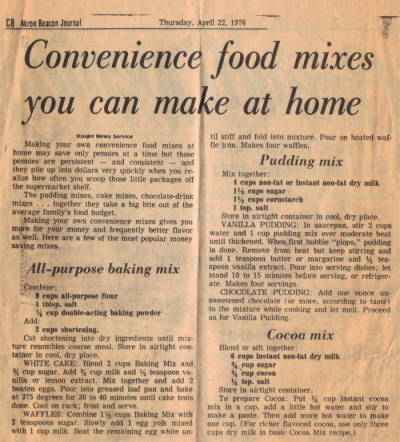 Convenience Food Mixes You Can Make At Home
Knight News Service
Making your own convenience food mixes at home may save only pennies at a time but those pennies are persistent — and consistent — and they pile up into dollars very quickly when you realize how often you scoop those little packages off the supermarket shelf.
The pudding mixes, cake mixes, chocolate-drink mixes … together they take a big bite out of the average family's food budget.
Making your own convenience mixes gives you more for your money and frequently better flavor as well. Here are a few of the most popular money saving mixes.
All-purpose baking mix
Combine:
9 cups all-purpose flour
1 tblsp. salt
1/4 cup double-acting baking powder
Add:
2 cups shortening.
Cut shortening into dry ingredients until mixture resembles coarse meal. Store in airtight container in cool, dry place.
WHITE CAKE: Blend 2 cups Baking Mix and 3/4 cup sugar. Add 3/4 cup milk and 1/2 teaspoon vanilla or lemon extract. Mix together and add 2 beaten eggs. Pour into greased loaf pan and bake at 375 degrees for 30 to 40 minutes until cake tests done. Cool on rack; frost and serve.
WAFFLES: Combine 1 1/2 cups Baking Mix with 2 teaspoons sugar. Slowly add 1 egg yolk mixed with 1 cup milk. Beat the remaining egg white until stiff and fold into mixture. Pour on heated waffle iron. Makes four waffles.
Pudding mix
Mix together:
4 cups non-fat or instant non-fat dry milk
1 1/2 cups sugar
1 1/2 cups cornstarch
1 tsp. salt
Store in airtight container in cool, dry place.
VANILLA PUDDING: In saucepan, stir 2 cups water and 1 cup pudding mix over moderate heat until thickened. When first bubble "plops," pudding is done. Remove from heat but keep stirring and add 1 teaspoon butter or margarine and 1/2 teaspoon vanilla extract. Pour into serving dishes; let stand 10 to 15 minutes before serving, or refrigerate. Makes four servings.
CHOCOLATE PUDDING: Add one ounce unsweetened chocolate (or more, according to taste) to the mixture while cooking and let melt. Proceed as for Vanilla Pudding.
Cocoa mix
Blend or sift together:
6 cups instant non-fat dry milk
3/4 cup sugar
3/4 cup cocoa
1/4 tsp. salt
Store in airtight container.
To prepare Cocoa: Put 1/4 cup instant cocoa mix in a cup, add a little hot water and stir to make a paste. Then add more hot water to make one cup. (For richer flavored cocoa, use only three cups dry milk in basic Cocoa Mix recipe.)
More Recipes For You To Enjoy: