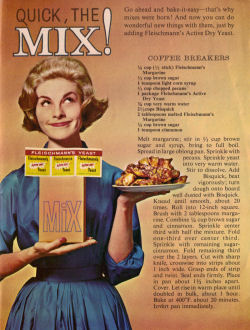 This comes from a vintage recipe booklet published by Fleischmann's Yeast dated 1961. The full recipe is available below, you can also click the image to view a larger size if you like.
QUICK, THE MIX!
Go ahead and bake-it-easy–that's why mixes were born! And now you can do wonderful new things with them, just by adding Fleischmann's Active Dry Yeast.
COFFEE BREAKERS
1/4 cup (1/2 stick) Fleischmann's Margarine
1/3 cup brown sugar
1 teaspoon light corn syrup
1/3 cup chopped pecans
1 package Fleischmann's Active Dry Yeast
3/4 cup very warm water
2 1/2 cups Bisquick
2 tablespoons melted Fleischmann's Margarine
1/4 cup brown sugar
1 teaspoon cinnamon
Melt margarine; stir in 1/3 cup brown sugar and syrup, bring to full boil. Spread in large oblong pan. Sprinkle with pecans.
Sprinkle yeast into very warm water. Stir to dissolve. Add Bisquick, beat vigorously; turn dough onto board well dusted with Bisquick. Knead until smooth, about 20 times. Roll into 12-inch square. Brush with 2 tablespoons margarine. Combine 1/4 cup brown sugar and cinnamon. Sprinkle center third with half the mixture. Fold one-third over center third. Sprinkle with remaining sugar-cinnamon. Fold remaining third over the 2 layers. Cut with sharp knife, crosswise into strips about 1 inch wide. Grasp ends of strip and twist. Seal ends firmly.
Place in pan about 1 1/2 inches apart. Cover. Let rise in warm place until doubled in bulk, about 1 hour. Bake at 400°F. about 20 minutes. Invert pan immediately.
More Recipes For You To Enjoy: