I'm not sure how old this recipe is but likely from the 1980's to 2000 or so. The recipe is written in green ink on a festive recipe card and I found it in a large collection of recipes. The recipe card was tucked in a plastic bag with a sample ornament (this is like a gingerbread but not edible). The ornament still smells very cinnamon! Recipe is typed below along with a scanned copy.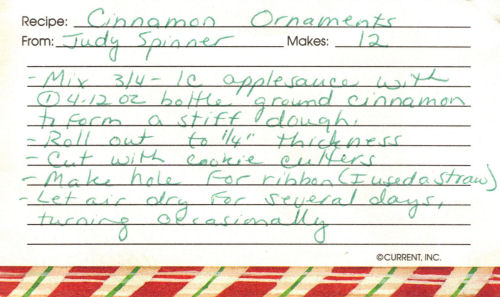 Cinnamon Ornaments
Makes: 12
Mix 3/4 – 1 c applesauce with (1) 4.12 oz bottle ground cinnamon to form a stiff dough.
Roll out to 1/4″ thickness
Cut with cookie cutters
Make hole for ribbon (I used a straw)
Let air dry for several days, turning occasionally
RecipeCurio Note: 4.12 ounces would be about 117 gram bag of cinnamon.
More Recipes For You To Enjoy: