This recipe was written on a lined index card and found in a large collection, date unknown. I've typed it below along with a scanned copy.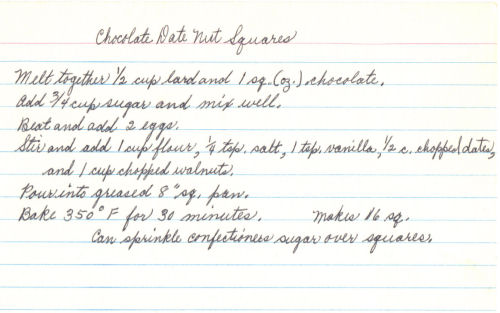 Chocolate Date Nut Squares
Melt together 1/2 cup lard and 1 sq. (oz.) chocolate.
Add 3/4 cup sugar and mix well.
Beat and add 2 eggs.
Stir and add 1 cup flour, 1/4 tsp. salt, 1 tsp. vanilla, 1/2 c. chopped dates, and 1 cup chopped walnuts.
Pour into greased 8″ sq. pan.
Bake 350°F for 30 minutes.
Makes 16 sq.
Can sprinkle confectioners sugar over squares.
More Recipes For You To Enjoy: