This recipe was typed onto a blank index card and found in a large collection, date unknown. I've typed it below along with a scanned copy.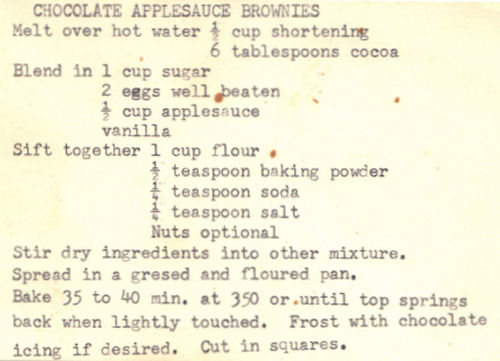 CHOCOLATE APPLESAUCE BROWNIES
Melt over hot water:
1/2 cup shortening
6 tablespoons cocoa
Blend in:
1 cup sugar
2 eggs well beaten
1/2 cup applesauce
vanilla
Sift together:
1 cup flour
1/2 teaspoon baking powder
1/4 teaspoon soda
1/4 teaspoon salt
Nuts optional
Stir dry ingredients into other mixture.
Spread in a greased and floured pan.
Bake 35 to 40 min. at 350 or until top springs back when lightly touched. Frost with chocolate icing if desired. Cut in squares.
More Recipes For You To Enjoy: