This recipe was written on a lined index card and found in a large collection, date unknown. I've typed it below along with a scanned copy (front side only).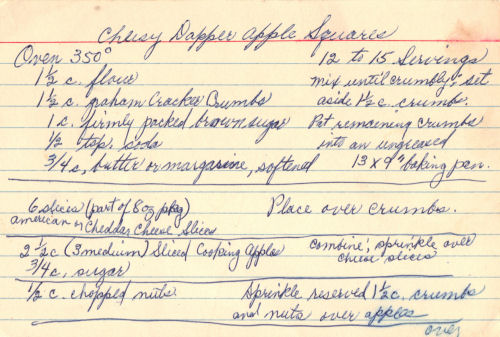 Cheesy Dapper Apple Squares
Oven 350°
12 to 15 Servings
1 1/2 c. flour
1 1/2 c. graham cracker crumbs
1 c. firmly packed brown sugar
1/2 tsp. soda
3/4 c. butter or margarine, softened
–Mix until crumbly; set aside 1 1/2 c. crumbs. Pat remaining crumbs into an ungreased 13×9″ baking pan.
6 slices (part of 8 oz pkg) American or Cheddar Cheese Slices
–Place over crumbs.
2 1/2 c (3 medium) sliced cooking apples
3/4 c. sugar
–Combine; sprinkle over cheese slices.
1/2 c. chopped nuts.
–Sprinkle reserved 1 1/2 c. crumbs and nuts over apples.
Bake at 350° for 35 to 40 min. until golden brown.
Serve warm.
Store in refrigerator.
More Recipes For You To Enjoy: