This recipe was clipped from a newspaper and found in a large collection, date unknown. I've typed it below along with a scanned copy.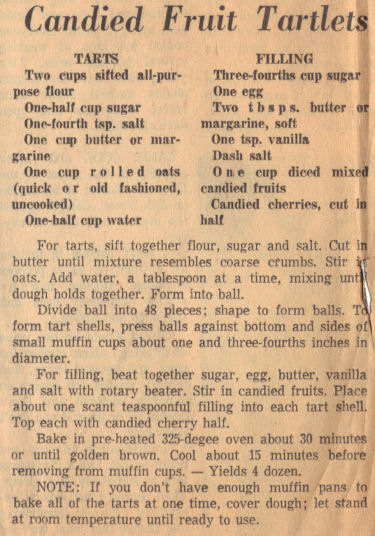 Candied Fruit Tartlets
TARTS
Two cups sifted all-purpose flour
One-half cup sugar
One-fourth tsp. salt
One cup butter or margarine
One cup rolled oats (quick or old fashioned, uncooked)
One-half cup water
FILLING
Three-fourths cup sugar
One egg
Two tbsps. butter or margarine, soft
One tsp. vanilla
Dash salt
One cup diced mixed candied fruits
Candied cherries, cut in half
For tarts, sift together flour, sugar and salt. Cut in butter until mixture resembles coarse crumbs. Stir in oats. Add water, a tablespoon at a time, mixing until dough holds together. Form into ball.
Divide ball into 48 pieces; shape to form balls. To form tart shells, press balls against bottom and sides of small muffin cups about one and three-fourths inches in diameter.
For filling, beat together sugar, egg, butter, vanilla and salt with rotary beater. Stir in candied fruits. Place about one scant teaspoonful filling into each tart shell. Top each with candied cherry half.
Bake in pre-heated 325-degree oven about 30 minutes or until golden brown. Cool about 15 minutes before removing from muffin cups.–Yields 4 dozen.
NOTE: If you don't have enough muffin pans to bake all of the tarts at one time, cover dough; let stand at room temperature until ready to use.
More Recipes For You To Enjoy: