This vintage recipe card was found in a large collection, date unknown. I've typed it out below along with a scanned copy.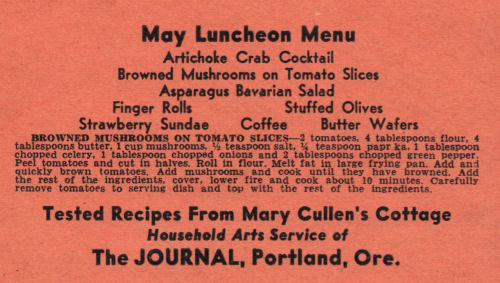 May Luncheon Menu
BROWNED MUSHROOMS ON TOMATO SLICES–2 tomatoes, 4 tablespoons flour, 4 tablespoons butter, 1 cup mushrooms, 1/2 teaspoon salt, 1/4 teaspoon paprika, 1 tablespoon chopped celery, 1 tablespoon chopped onions and 2 tablespoons chopped green pepper. Peel tomatoes and cut in halves. Roll in flour. Melt fat in large frying pan. Add and quickly brown tomatoes. Add mushrooms and cook until they have browned. Add the rest of the ingredients, cover, lower fire and cook about 10 minutes. Carefully remove tomatoes to serving dish and top with the rest of the ingredients.
Tested Recipes from Mary Cullen's Cottage
Household Arts Service of
The JOURNAL, Portland, Ore.
More Recipes For You To Enjoy: