This is a recipe card that I suspect may have been distributed by Crisco. The cookies are pictured on the front of the card, recipe on back. There is a signature: Loretta Lynn. Probably the country singer? No date on card.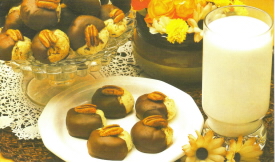 BROWN EYED SUSANS
4 dozen cookies
Dough:
1 cup Crisco
1/4 cup confectioners' sugar
1 tablespoon vanilla
1/2 teaspoon rum flavor
2 cups all-purpose flour, sifted
1 1/2 teaspoons baking powder
3/4 teaspoon salt
3/4 cup pecans, finely ground
FROSTING:
2 tablespoons Crisco
1/4 cup cocoa
1/8 teaspoon salt
3 tablespoons plus 1 teaspoon milk
3/4 teaspoon vanilla
1 3/4 cup confectioners' sugar
Preheat oven to 400°. Cream Crisco and sugar. Add vanilla and rum flavor. Sift flour with baking powder and salt; add to creamed mixture. Add pecans. Mix at high speed to blend dough. Shape in 1-inch balls. Place on ungreased cookie sheets; flatten. Bake at 400° for about 10 minutes. Cool and frost. For Frosting, melt Crisco in saucepan. Remove from heat; stir in cocoa and salt. Mix in milk and vanilla. In small mixer bowl stir cocoa mixture into sugar. Beat at medium speed of elecrric mixer until smooth and creamy. Put small amount of frosting in center of each cookie and top with pecan half.
Loretta Lynn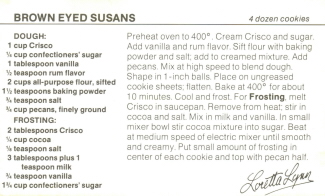 More Recipes For You To Enjoy: