This recipe was written on a lined index card and found in a large collection, date unknown. There's a note in the top right corner that reads: "Janet made, real good". I've typed it out below along with a scanned copy.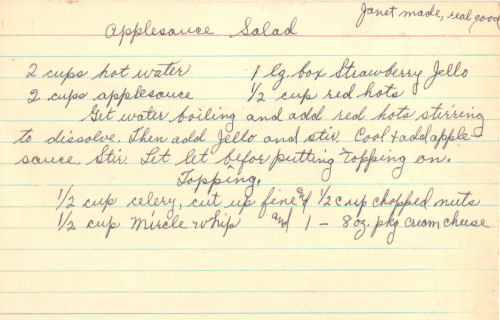 Applesauce Salad
2 cups hot water
2 cups applesauce
1 lg. box strawberry jello
1/2 cup red hots
Get water boiling and add red hots stirring to dissolve. Then add Jello and stir. Cool & add applesauce. Stir. Let set before putting topping on.
Topping:
1/2 cup celery, cut up fine and 1/2 cup chopped nuts
1/2 cup Miracle Whip and 1 – 8 oz. pkg. cream cheese
More Recipes For You To Enjoy: