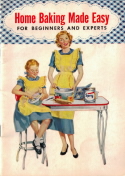 Here is page 24 as well as a scan of page 25 (inside back cover) of the vintage cookbook: Home Baking Made Easy that was published in 1953 by Lever Brothers Company.
To review all pages in this booklet, simply visit the Home Baking Made Easy: Spry Category and click on a page title to review that section.
There are scans of each of the pages, you can click the full-page pictures to view a larger size.
WHAT DOES A SHORTENING DO?
The function of shortening in baking is to give tenderness to the baked product. Without shortening, a dough of flour and water is tough when baked. Shortening coats the flour particles, so that they do not stick together, thus shortening provides tenderness, improved texture, better eating quality, and also increases the nutritive value of foods.
WHY SPRY?
Spry is the most modern type of shortening–a blend of carefully selected vegetable oils. These are first refined to remove impurities. The oils are then hardened to the proper consistency by a process known as hydrogenation. The hydrogenated oils are next deodorized to give a bland flavored, odorless product. Lastly, a special emulsifier is added and the oils homogenized for extra smoothness and creaminess. The emulsifier makes possible new richer cakes with more delicious eating quality, as well as improved keeping quality. Spry stays sweet and fresh at room temperature–does no require refrigeration. Spry is an important source of fat, essential in a normal diet, supplying the body with quick and lasting energy. Spry is wholesome, nutritious, digestible.
FOR PASTRY
Shortening largely determines the character of pastry. Spry is ideal to use because:
It's Homogenized–mixes directly with liquids, making possible the easy new "Water-Whip" method for piecrust.
It's 100% shortening — gives pastry crisp tenderness and ideal flakiness.
It's bland in odor and flavor–makes pastry with a nut-sweet flavor. Stable at high baking temperatures.
FOR CAKES
Spry's easy "One-Bowl" way to make better cakes is possible because Spry is a new kind of shortening.
It contains a special "cake-improver"–an emulsifier that makes it possible for the cake batter to carry extra sugar and liquid. You get higher, lighter, fine-textured cakes when you use Spry and Spry recipes.
It's Homogenized–pre-creamed to mix quickly and thoroughly with both liquid and dry ingredients. The old-fashioned creaming of shortening and sugar is outdated.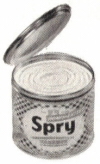 Spry recipes give cakes with softer texture, moister crumb and grain that is pin-point fine and even; and they stay fresh longer.
Has more shortening power because it's all shortening.
FOR COOKIES
Spry makes rich-tasting, delightfully tender cookies because:
It's Homogenized–so creamy and smooth that the Spry can be quickly and thoroughly mixed with the sugar, flavorings and eggs in one easy step!
FOR BISCUITS, BREADS, MUFFINS
With Spry, it's easier to make all kinds of fine, tender breads because:
It's Homogenized–cuts in more easily.
It's bland in odor and flavor–lets through the full flavor of other ingredients or spreads.
The quality of Spry does not vary. It is uniform during all seasons and in all sections of the country. Lever Brothers unconditionally guarantees the quality and performance of Spry.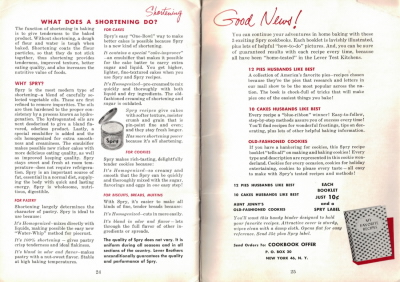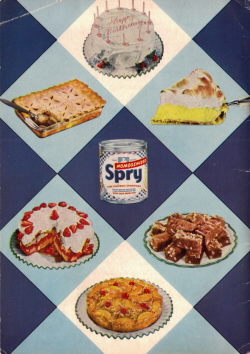 More Recipes For You To Enjoy: