This recipe was clipped from a newspaper, date unknown but the telephone number for the company advertising on the back is both letters and numbers so this is at least a few decades old. Recipe is typed below along with a scanned copy.
IF YOU STILL have some cinnamon left, you might like to try this pudding recipe from Mrs. Clayton Whipple of Doylestown. "The hot sirup goes to the bottom," she explained, "and you cut it in squares while warm and serve upside down. You make it plain or add nuts, or dates or raisins. And, the 2 tablespoons of baking powder are correct."
Cinnamon Pudding
1 cup sugar
2 tbsps. soft butter
2 tbsps. baking powder
2 cups flour
1 tsp. (rounded) cinnamon
1 cup milk
1/2 cup chopped nuts, dates or raisins
Sift together dry ingredients into mixing bowl. Make a well and add butter and milk; mix well. Pour into 9×12 greased baking pan. Sprinkle chopped nuts over batter and pour hot sirup over this and bake in preheated 400-degree oven 30 minutes. Combine sirup ingredients and put on to heat while mixing batter. For sirup you'll need 2 cups brown sugar, 2 tablespoons butter and 1 1/2 cups water. Bring to a good boil before pouring on batter.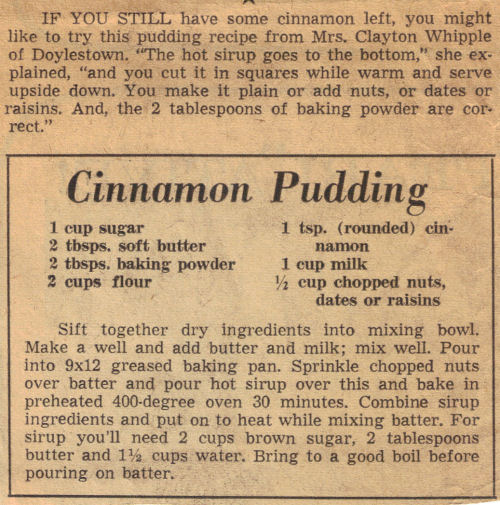 More Recipes For You To Enjoy: