This recipe was written on a large white index card and comes from a large collection of recipes collected by one cook. Date unknown. The recipe is typed below as-is and the scanned copy is clickable if you'd like to view a larger copy.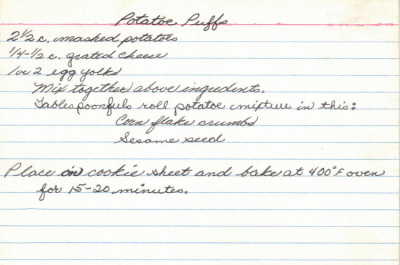 Potatoe Puffs
2 1/2 c. mashed potatoes
1/4-1/2 c. grated cheese
1 or 2 egg yolks
Mix together above ingredients.
Tablespoonfuls roll potatoe mixture in this:
Corn flake crumbs
Sesame seed
Place on cookie sheet and bake at 400°F oven for 15-20 minutes.
More Recipes For You To Enjoy: