This is a recipe clipping from a magazine, date is unknown but I'd guess 1950s or 1960s judging from the graphics on the back side. The recipe is typed below as-is.
Before using this recipe, it's important to read this page, the "Safe Canning & Food Preservation" section.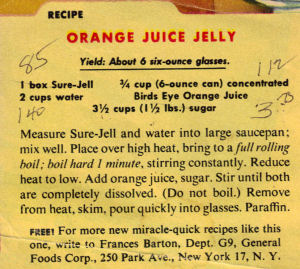 ORANGE JUICE JELLY
Yield: About 6 six-ounce glasses.
1 box Sure-Jell
2 cups water
3/4 cup (6-ounce can) concentrated Birds Eye Orange Juice
3 1/2 cups (1 1/2 lbs.) sugar
Measure Sure-Jell and water into large saucepan; mix well. Place over high heat, bring to a full rolling boil; boil hard 1 minute, stirring constantly. Reduce heat to low. Add orange juice, sugar. Stir until both are completely dissolved. (Do not boil.) Remove from heat, skim, pour quickly into glasses. Paraffin.
More Recipes For You To Enjoy: