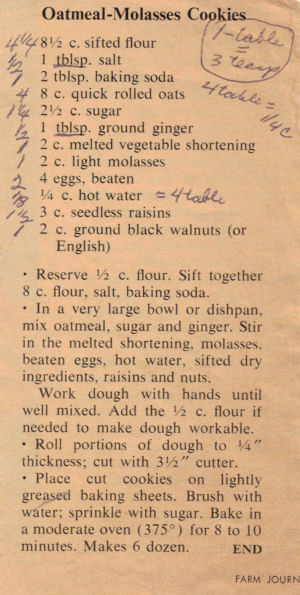 This recipe was clipped from the Farm Journal and was published in 1967. Recipe is typed below along with a scanned copy–you'll see handwritten measurements to halve the recipe if desired.
Oatmeal-Molasses Cookies
8 1/2 c. sifted flour
1 tblsp. salt
2 tblsp. baking soda
8 c. quick rolled oats
2 1/2 c. sugar
1 tblsp. ground ginger
2 c. melted vegetable shortening
2 c. light molasses
4 eggs, beaten
1/4 c. hot water
3 c. seedless raisins
2 c. ground black walnuts (or English)
Reserve 1/2 c. flour. Sift together 8 c. flour, salt, baking soda.
In a very large bowl or dishpan, mix oatmeal, sugar and ginger. Stir in the melted shortening, molasses, beaten eggs, hot water, sifted dry ingredients, raisins and nuts.
Work dough with hands until well mixed. Add the 1/2 c. flour if needed to make dough workable.
Roll portions of dough to 1/4″ thickness; cut with 3 1/2″ cutter.
Place cut cookies on lightly greased baking sheets. Brush with water; sprinkle with sugar. Bake in a moderate oven (375°) for 8 to 10 minutes. Makes 6 dozen.
More Recipes For You To Enjoy: