This is a full page recipe advertisement in a magazine dated 1980 for Hershey's Cocoa. The complete recipe is typed below and you can click the picture to view a larger copy. Update: I found another clipping for this recipe that I've scanned and added at the bottom.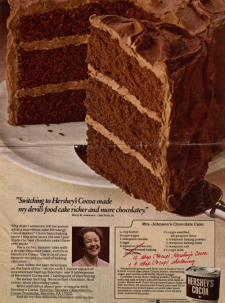 Mrs. Johnson's Chocolate Cake
1/4 cup butter
2 cups sugar
1 teaspoon vanilla
2 eggs
12 tbsp. (3/4 cup) Hershey's Cocoa + 4 tbsp. (1/4 cup) shortening*
1 3/4 cups unsifted all-purpose flour
3/4 teaspoon baking powder
3/4 teaspoon baking soda
1/8 teaspoon salt
1 3/4 cups milk
Generously grease and flour two-9-inch or 3 8-inch round cake pans. Cream butter, shortening, sugar and vanilla until fluffy; blend in eggs.
Combine cocoa, flour, baking powder, baking soda and salt in bowl; add alternately with milk to batter. Blend well. Pour into prepared pans; bake at 350° for 30 to 35 minutes for 9-inch pans and 35 to 40 minutes for 8-inch pans, or until cake tester inserted in center comes out clean. Cool 10 minutes; remove from pans.
*This was overwritten in red (part of the advertisement), the ingredient crossed out stated 4 squares (4 ounces) unsweetened baking chocolate.
The recipe testimonial included in the ad:
Switching to Hershey's Cocoa made my devil's food cake richer and more chocolatey.
-Betty K. Johnson, Oak Park, Ill.

Why didn't someone tell me sooner what a marvelous cake Hershey's Cocoa makes? I have been baking since I was nine years old and I just made the best chocolate cake I have ever made.
For a richer, moister cake with a deeper chocolate taste, switch to Hershey's Cocoa. Use it in all your favorite recipes instead of baking chocolate.
Just follow the easy directions on the back of the can: for each 1-ounce square of unsweetened baking chocolate, use 3 tablespoons of Hershey's Cocoa and 1 tablespoon of shortening.
No messy melting. No scorched chocolate. And richer, more chocolatey taste.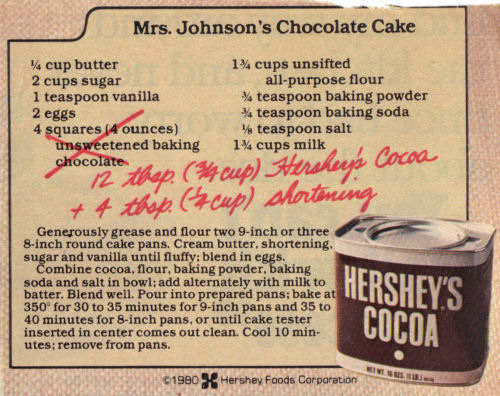 More Recipes For You To Enjoy: