This was clipped from a cardboard box, probably for Graham Crackers. Recipe is typed below (there was a typo that I corrected) along with a scanned copy you can click if you'd like to view a larger size.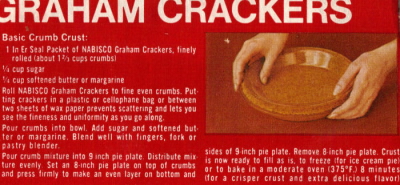 GRAHAM CRACKERS
Basic Crumb Crust:
1 Inner Seal Packet of NABISCO Graham Crackers, finely rolled (about 1 2/3 cups crumbs)
1/4 cup sugar
1/4 cup softened butter or margarine
Roll NABISCO Graham Crackers to fine even crumbs. Putting crackers in a plastic or cellophane bag or between two sheets of wax paper prevents scattering and lets you see the fineness and uniformity as you go along.
Pour crumbs into bowl. Add sugar and softened butter or margarine. Blend well with fingers, fork or pastry blender.
Pour crumb mixture into 9 inch pie plate. Distribute mixture evenly. Set an 8-inch pie plate on top of crumbs and press firmly to make an even layer on bottom and sides of 9-inch pie plate. Remove 8-inch pie plate. Crust is now ready to fill as is, to freeze (for ice cream pie) or to bake in a moderate oven (375°F.) 8 minutes (for a crisper crust and extra delicious flavor).
More Recipes For You To Enjoy: