This recipe was clipped from WOMAN'S DAY magazine and published in 1968. Recipe is typed below along with a scanned copy.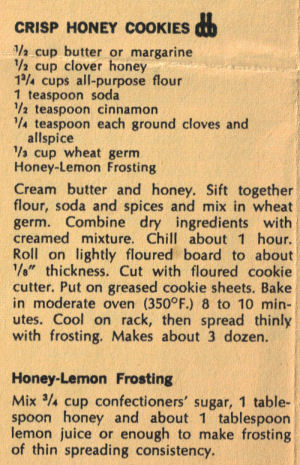 CRISP HONEY COOKIES
1/2 cup butter or margarine
1/2 cup clover honey
1 3/4 cups all-purpose flour
1 teaspoon soda
1/2 teaspoon cinnamon
1/4 teaspoon each ground cloves and allspice
1/3 cup wheat germ
Honey-Lemon Frosting
Cream butter and honey. Sift together flour, soda and spices and mix in wheat germ. Combine dry ingredients with creamed mixture. Chill about 1 hour. Roll on lightly floured board to about 1/8″ thickness. Cut with floured cookie cutter. Put on greased cookie sheets. Bake in moderate oven (350°F.) 8 to 10 minutes. Cool on rack, then spread thinly with frosting. Makes about 3 dozen.
Honey-Lemon Frosting
Mix 3/4 cup confectioners' sugar, 1 tablespoon honey and about 1 tablespoon lemon juice or enough to make frosting of thin spreading consistency.
More Recipes For You To Enjoy: