This is a recipe advertisement for Pillsbury's Best Enriched Flour that was clipped from a magazine (dated 1947). The recipe is typed out in full below along with a scan of the page, click to view a larger copy.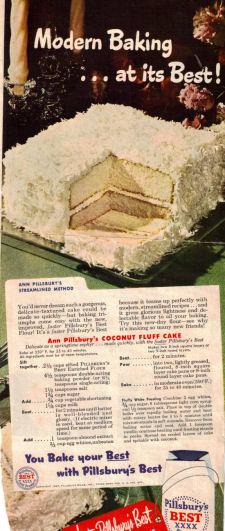 Modern Baking . . . at its Best!
ANN PILLSBURY'S STREAMLINED METHOD
You'd never dream such a gorgeous, delicate-textured cake could be made so quickly–but baking triumphs come easy with the new, improved, faster Pillsbury's Best Flour! It's a faster Pillsbury's Best because it teams up perfectly with modern, streamlined recipes . . . and it gives glorious lightness and delectable flavor to all your baking. Try this new-day flour–see why it's making so many new friends!
Ann Pillsbury's COCONUT FLUFF CAKE
Delicate as a springtime zephyr . . . made quickly, with the faster Pillsbury's Best
Bake at 350° F. for 35 to 40 minutes.
All ingredients must be at room temperature.
Makes two 8-inch square layers or
two 9-inch round layers.
Sift
together . . . 2 1/2 cups sifted PILLSBURY'S BEST Enriched FLOUR
4 1/2 teaspoons double-acting baking powder (or 6 3/4 teaspoons single-acting)
1 1/2 teaspoons salt
1 3/4 cups sugar
Add . . . 3/4 cup vegetable shortening
1 1/8 cups milk
Beat . . . for 2 minutes until batter is well-blended and glossy. (If electric mixer is used, beat at medium speed for same period of time.)
Add . . . 1 teaspoon almond extract
2/3 cup egg whites, unbeaten
Beat . . . for 2 minutes.
Pour . . . into two, lightly greased, floured, 8-inch square layer cake pans or 9-inch round layer cake pans.
Bake . . . in moderate oven (350°F.) for 35 to 40 minutes.
Fluffy White Frosting Combine 3 egg whites, 3/4 cup sugar, 6 tablespoons light corn syrup and 1/2 teaspoon salt. Place in top of double boiler over rapidly boiling water and beat with rotary beater for 4 to 5 minutes until mixture stands in soft mounds. Remove from boiling water and cool. Add 1 teaspoon vanilla; continue beating until frosting stands in peaks. Spread on cooled layers of cake and sprinkle with coconut.
You Bake your Best with Pillsbury's Best
More Recipes For You To Enjoy: