This recipe was typed onto a large index card and found in a large collection, date unknown. Recipe is typed below along with a scanned copy.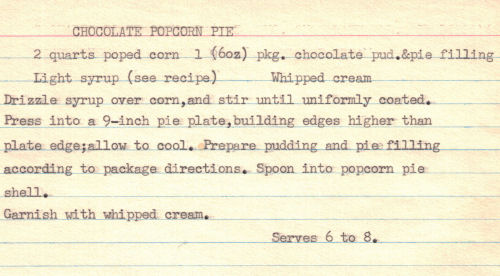 CHOCOLATE POPCORN PIE
2 quarts popped corn
1 (6oz) pkg. chocolate pud. & pie filling
Light syrup (see recipe)
Whipped cream
Drizzle syrup over corn, and stir until uniformly coated. Press into a 9-inch pie plate, building edges higher than plate edge; allow to cool. Prepare pudding pie filling according to package directions. Spoon into popcorn pie shell.
Garnish with whipped cream.
Serves 6 to 8.
More Recipes For You To Enjoy: