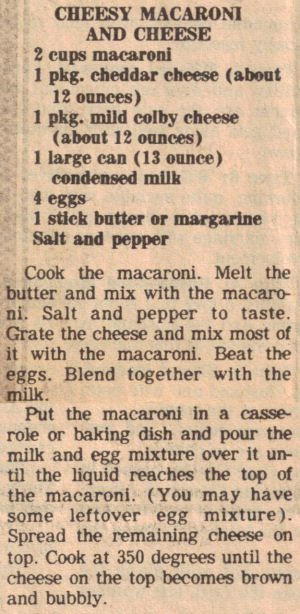 This recipe was clipped from a newspaper and found in a large collection, date unknown. Recipe is typed below along with a scanned copy (recipe was across two columns so I snipped them together).
CHEESY MACARONI AND CHEESE
2 cups macaroni
1 pkg. cheddar cheese (about 12 ounces)
1 pkg. mild colby cheese (about 12 ounces)
1 large can (13 ounce) condensed milk
4 eggs
1 stick butter or margarine
Salt and pepper
Cook the macaroni. Melt the butter and mix with the macaroni. Salt and pepper to taste. Grate the cheese and mix most of it with the macaroni. Beat the eggs. Blend together with the milk.
Put the macaroni in a casserole or baking dish and pour the milk and egg mixture over it until the liquid reaches the top of the macaroni. (You may have some leftover egg mixture). Spread the remaining cheese on top. Cook at 350 degrees until the cheese on the top becomes brown and bubbly.
More Recipes For You To Enjoy: