This is a sweet little coupon promo booklet from Ceresota that has a recipe for homemade bread on the back, publish date is 1957 judging from one of the coupons expiry date. I've scanned the recipe page as well as typed out the recipe below.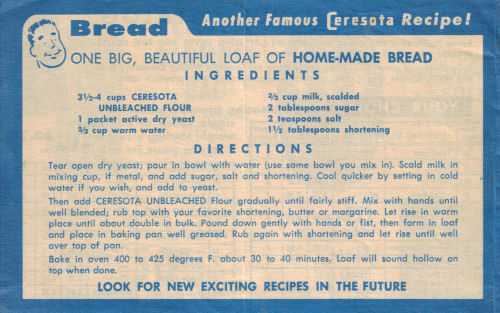 Another Famous Ceresota Recipe!
Bread
ONE BIG, BEAUTIFUL LOAF OF HOME-MADE BREAD
INGREDIENTS
3 1/2 – 4 cups CERESOTA UNBLEACHED FLOUR
1 packet active dry yeast
2/3 cup warm water
2/3 cup milk, scalded
2 tablespoons sugar
2 teaspoons salt
1 1/2 tablespoons shortening
DIRECTIONS
Tear open dry yeast; pour in bowl with water (use same bowl you mix in). Scald milk in mixing cup, if metal, and add sugar, salt and shortening. Cool quicker by setting in cold water if you wish, and add to yeast.
Then add CERESOTA UNBLEACHED Flour gradually until fairly stiff. Mix with hands until well blended; rub top with your favorite shortening, butter or margarine. Let rise in warm place until about double in bulk. Pound down gently with hands or fist, then form in loaf and place in baking pan well greased. Rub again with shortening and let rise until well over top of pan.
Bake in oven 400 to 425 degrees F. about 30 to 40 minutes. Loaf will sound hollow on top when done.
LOOK FOR NEW EXCITING RECIPES IN THE FUTURE
More Recipes For You To Enjoy: