This handwritten recipe comes from a large collection, date unknown. Recipe is typed below along with a scanned copy.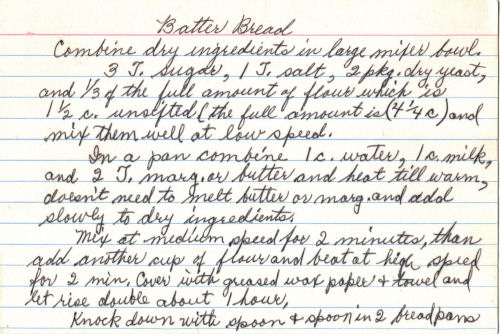 Batter Bread
Combine dry ingredients in large mixer bowl.
3 T. sugar, 1 T. salt, 2 pkg. dry yeast, and 1/3 of the full amount of flour which is 1 1/2 c. unsifted (the full amount is (4 1/4 c) and mix them well at low speed.
In a pan combine 1 c. water, 1 c. milk, and 2 T. marg. or butter and heat till warm, doesn't need to melt butter or marg. and add slowly to dry ingredients.
Mix at medium speed for 2 minutes, then add another cup of flour and beat at high speed for 2 min. Cover with greased wax paper & towel and let rise double about 1 hour.
Knock down with spoon & spoon in 2 bread pans and let rise 20 min. to 30 min. before putting in oven.
375° oven for 50 min.
More Recipes For You To Enjoy: